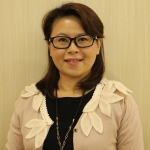 Florence Lau
Individual, Marriage & Family Therapist
M.C.M.F.T.
Prepare/Enrich Practitioner
Ms. Lau has two children. She has been serving in the church ministry of marriage, family and personal growth for more than 20 years. She understands the importance of couples relationship and family in children's nurture and growth.
As a professional, Ms. Lau has received additional training in Play Therapy and Parenting.
She has years of experience in helping clients with developmental problems, pre-marital counseling, marriage and family counseling. She also deals with children and adults with mental and emotional problems, such as depression, bipolar disorder, schizophrenia, personality disorders, domestic violence, and suicidal cases.
She has led groups on marriage growth, personal growth, parenting and play therapy, as well as giving seminars and workshops.